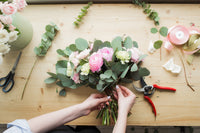 Commitment to Quality
We see ourselves not as a vendor but as a part of your design team. Your success is our success! The SUPPLYFlora team quality checks and inspects all of our products to ensure the highest of quality is always delivered. Our team works around the clock to make sure you have everything you need to CREATE GREATER!
The philosophy is simple; provide the highest standard of floral supplies at the lowest prices to help keep our local flower shops & designers profitable and successful! 
Don't see something you need, dont worry! Get in touch with one of our team members and we'll help you find it!